Biomedical Information Management System
Discover Genomcore BIMS, a unique technological framework enabling real-world implementation of precision healthcare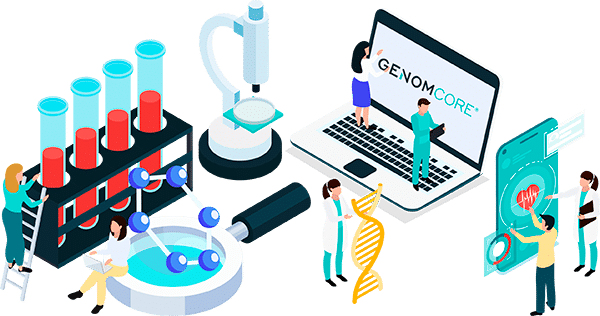 You decide what to do with your data. We make it possible.
Digital transformation in the back
Legacy IT systems in clinical settings such as LIMS, EHR or HIS are not designed to manage large sets of molecular data such as genomics or proteomics. Learn how Genomcore BIOMED can help your organization to efficiently integrate next-generation datasets, high-performance computing and Big Data intelligence into your existing systems.
Patient empowerment in the front
The unstoppable trend of empowering end-users into healthcare protocols arises new challenges regarding data integrity, security, processing, governance and aggregation. Our one-of-a-kind custom App service for end-users, Genomcore FRONTDESK, enables health professionals with plug-and-play Apps and Patient Portals to retrieve and deliver personal and health-related information.
DONOR SCREENING & RECEPTOR MATCHING SOFTWARE FOR IVF BIOBANKS
In the fast-evolving field of IVF, reproductive health professionals require new tools to manage genetic information of their patients, donors and receptors, to screen and find the most appropiate partner to minimize the risk of inherited conditions in the newborns. Genomcore IVF addresses the needs of those organizations managing gamete biobanks and assists in the process to find a good match for the future moms.
Delivery of real-world personalised healthcare
Our technology platform offers the possibility to implement new protocols and services for precision medicine and personalised health from biomedical research to primary care. Learn through concrete examples how we can help different industries with their digitisation and automation of data-driven processes.
Because we know that security and privacy matters most to you, we are a ISO 27001, 27017, 27018 certified company and we only work with certified providers to ensure your data is safe night and day. These certifications demonstrate our commitment to continuously improve the security and privacy of our customers' data.