With Genomcore Interface Builder, you can create personalized web portals and native mobile apps for both iOS and Android, all without the need for coding expertise. Easily collect structured data from patients and end-users through customizable forms, or provide them with relevant information.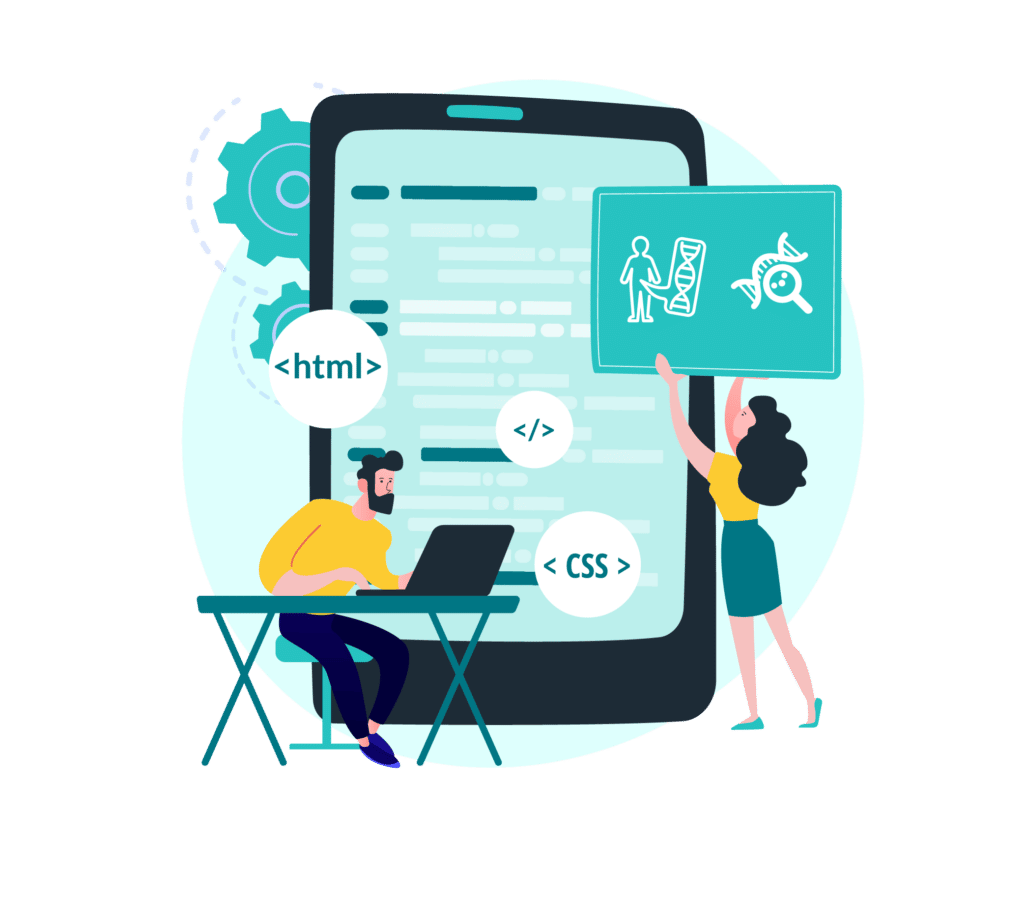 YOUR CUSTOM END-USER APPS IN ONE-CLICK
Say goodbye to long development cycles and hefty budgets when creating compliant healthcare apps. With Genomcore Interface Builder, you can harness the power of the Genomcore Platform to quickly and easily build precision health solutions, without any coding knowledge required, as easy as to set-up a personal blog.
STRUCTURED DATA COLLECTION WITH FORMS MODULE
Forms is a powerful module that allows you to build customizable end-user formularies to collect structured data from your patients and integrate it with the Unified Multimodal Datastore. 
With its intuitive interface and robust processing capabilities, Forms module empowers you to efficiently manage and process user-provided data, enabling you to unlock valuable insights and deliver precision care.
IMPORT TIME-SERIES FROM CONNECTED DEVICES
Genomcore's end-user apps allow users to connect their wearable and smart devices accounts, including Garmin Connect, Apple HealthKit*, and Google Fit*, to the platform. With user authorization, time-series data and other information from these external platforms can be imported into the Unified Multimodal Datastore, enabling tracking and monitoring of health metrics. This data can then be combined with other genomics or clinical datasets to gain a comprehensive view of user's overall health and wellness.
* Support for Apple HealthKit and Google Fit will be released during 2023
DELIVER RICH PERSONALIZED HEALTH EXPERIENCES
Unlock the full potential of personalized health with the combined power of Genomcore Platform and Interface Builder. See how Made of Genes is using Genomcore technology to create a one-of-a-kind molecular assessment service that includes DNA testing, blood analytics, and real-world data. 
WEB-BASED & NATIVE APPs FOR iOS and Android
Genomcore Interface Builder projects are simultaneously created for three channels: responsive web and native mobile apps for iOS and Android. While web portals provide the most compatible interaction to end users, using native mobile frameworks enables full interaction with users devices capabilities such as biometrical sensors access, strong on-device encryption and the best user experience possible.