As our name suggests, the core of Genomcore is genomic analysis. We specialize in industry-specific solutions that deliver real value to professionals and end-users, integrating genomic information with other medical modalities to unleash the true power of precision care.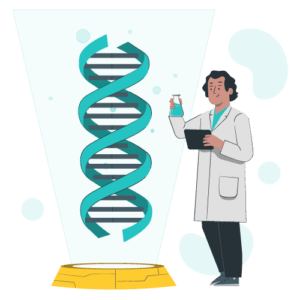 STRUCTURED GENOMIC VARIANTS DATASTORE
In contrast with traditional VCF files, genomic variant queries in the Unified Multimodal Datastore (UMD) provide instant retrieval and filtering of observations across experiments, ensuring scalability across billions of datapoints. 
This powerful implementation enables to identify other experiments sharing a variant of interests or ease re-classification processes. 
SEAMLESS HIGH-PERFORMANCE PIPELINES
Leveraging Genomcore
Platform Engine
, arbitrarily large workloads can be executed in distributed datacenters, either on-premises or in the cloud without unlimited resource allocation. Single tasks or combined pipelines and workflows can be managed from an integrated interface, with a convenient access to logs and linked datasets.
INTEGRATIVE MULTIMODAL STUDIES
UMD Studies allows grouping multiple entities together in a single document containing multiple raw data files or multimodal datasets. This can be used both in the automatic processing of the information and to accelerate interpretation time.
Combined variant annotation from multiple NGS experiments in a single study enables discipline-specific annotations.
CUSTOMIZABLE AND PRIVATE KNOWLEDGE BASE
Genomic variants in the UMD account with a custom template to manage curated consecuence annotations and other relevant attributes to your team, like canned texts for automated report generation or internal notes for R&D.
Internal annotations database will be combined on the calling process with other public or commercial annotation databases to accelerate variant filtering.
And don't worry: Genomcore will never use, cease or aggregate your internal knowledge base, ensuring your competitive advantage in genomic diagnosis increases over time.
END-TO-END AUTOMATIZED CLINICAL WORKFLOWS
Map the output folder of your sequencers in Genomcore filesystem and forget about technological lock-in and using multiple platforms from diferent vendors.
Genomcore is able to parse low-level files from most commercial NGS and Array platforms as well as LIMS systems, centralizing secondary and tertiary analysis with operative processes reducing efforts, risks and costs associated to sparse systems.