Unify multimodal health datasets to retrieve actionable insights
Genomcore provides a unified, single source of truth for all your biomedical datasets. Experience seamless integration and analysis of multiple modalities, resulting in actionable insights and enriched patient interactions, empowering healthcare professionals to make better informed decisions.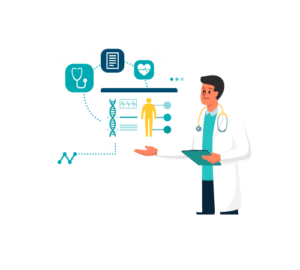 HOLISTIC VIEW OF PATIENTS HEALTH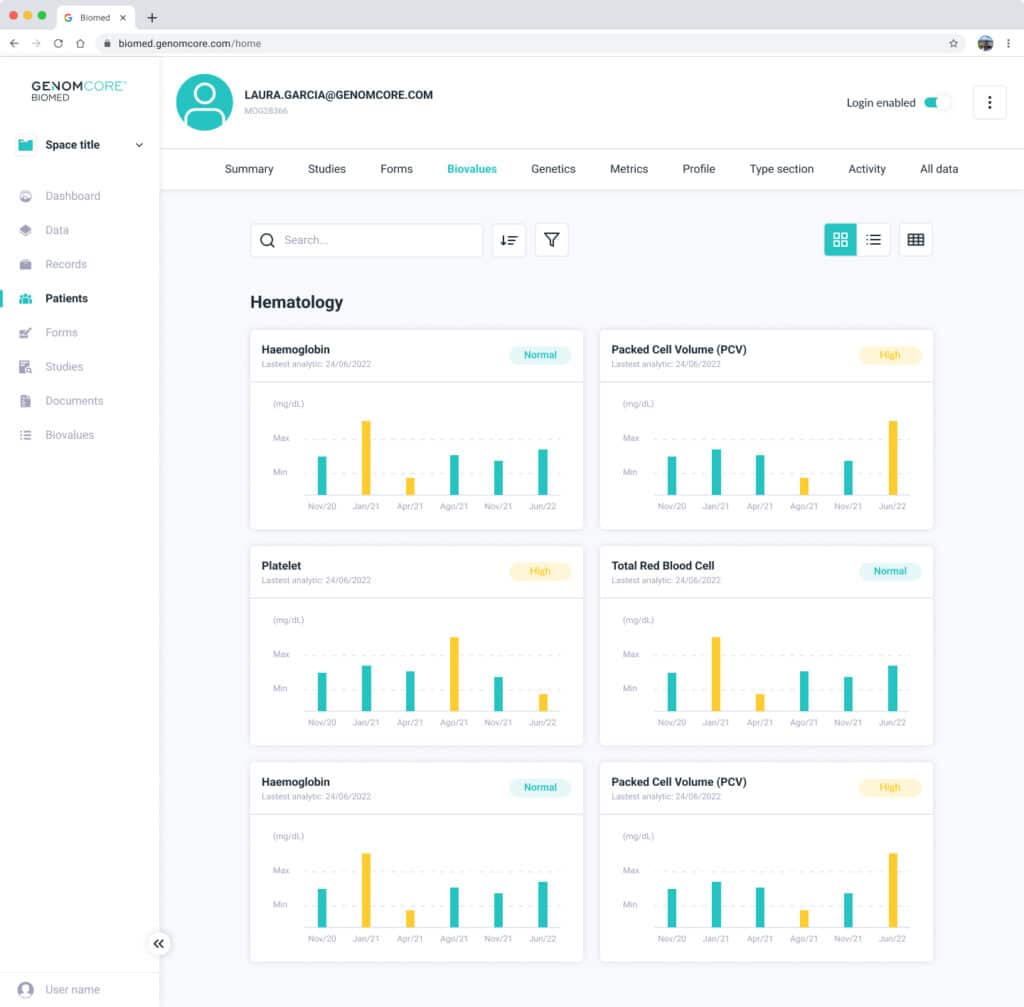 Genomcore provides healthcare professionals (HCPs) a powerful tool to access and manage patient data from multiple sources in a centralized, secure and compliant manner. 
By integrating diverse data sources such as EHRs, LIMS, HIMS, genomicis, medical imaging and real-world data, Genomcore enables HCPs to have a holistic view of a patient's health status, rather than just a fragmented view of their medical history. This allows for more accurate diagnoses, personalized treatment plans, and proactive health management.
TAILORED SMART ACTIONABILITY
By utilizing the
Unified Multimodal Datastore
, diverse biomedical datasets can be seamlessly consolidated, organized, and queried. The
Platform Engine
enables HCPs to build tailor-made workflows that can perform complex data evaluation tasks without coding knowledge. These automation capabilities can significantly reduce the time and effort required for manual data interpretation and analysis, leading to faster and more accurate insights into patient health at scale. This can not only save time and costs but also reduce errors, ultimately improving patient outcomes.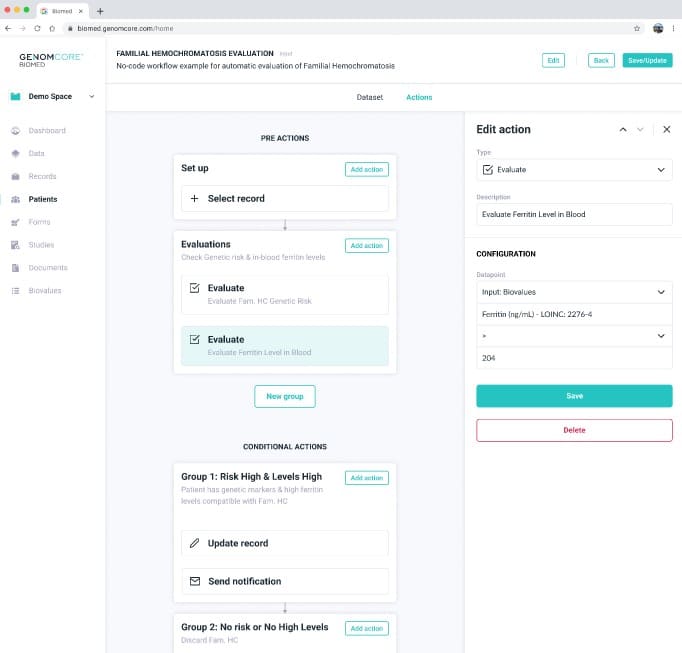 ENGAGE WITH PATIENTS WITH DIGITAL SOLUTIONS
Genomcore
Interface Builder
is a powerful tool for engaging with patients. With the Interface Builder, HCPs can design custom, user-friendly interfaces that allow patients to easily access their health data, including test results, medical history, and other relevant information. HCPs can also create forms to collect patient feedback and sensitive data in a compliant manner, such as symptom tracking or medication adherence as well as real-world metrics from wearables. These features provide patients with a more active role in their healthcare, leading to greater engagement and improved health outcomes.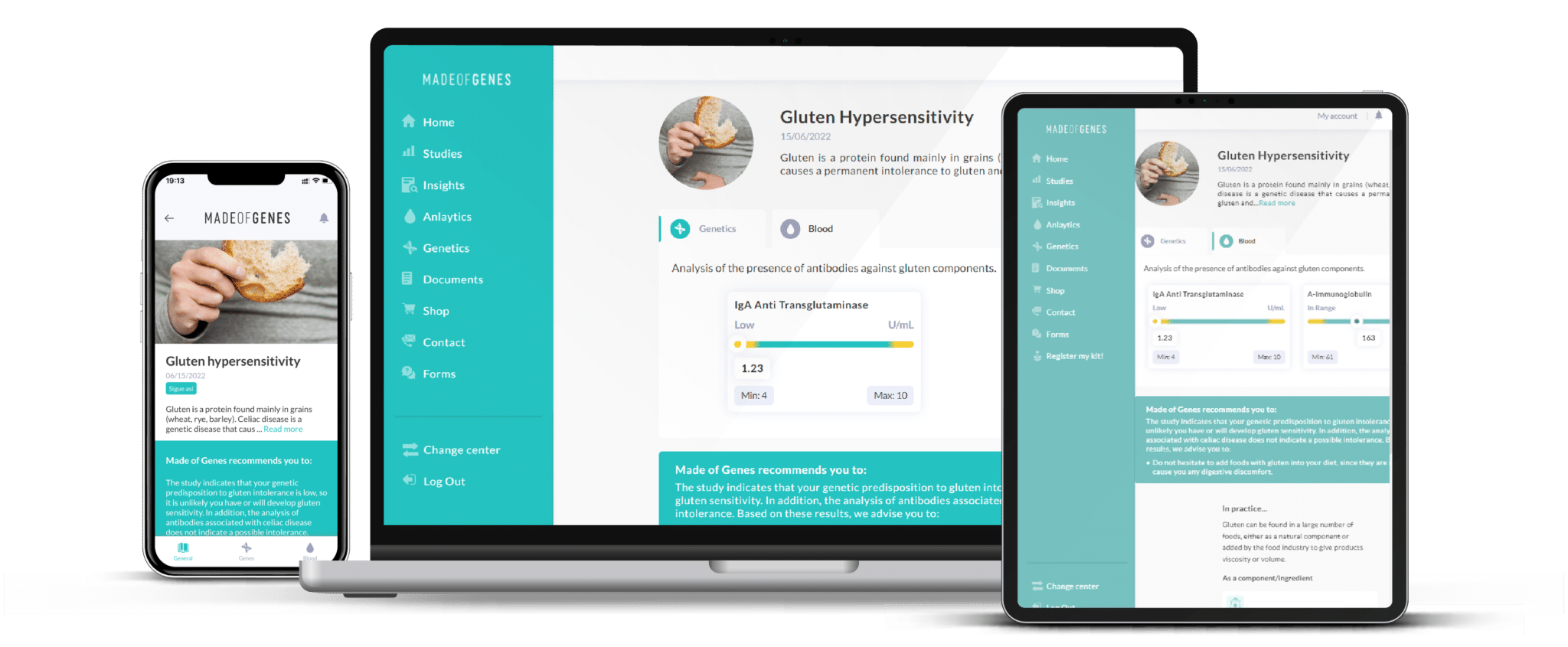 DISCOVER SOME RELATED USE CASES