Low-code platform to scale clinical diagnostics and build Software as Medical Device (SaMD)
Genomcore offers biotech companies and diagnostic providers the ability to build custom automations and scale expert systems with ease and total compliance. Our framework simplifies the process of bringing cutting-edge technologies to market and delivering results that drive efficiency and growth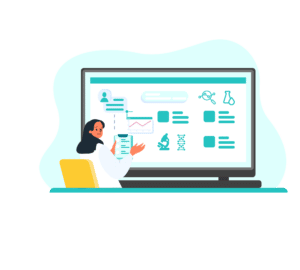 INTEGRATE OPERATIONS WITH UNIFIED OBSERVABILITY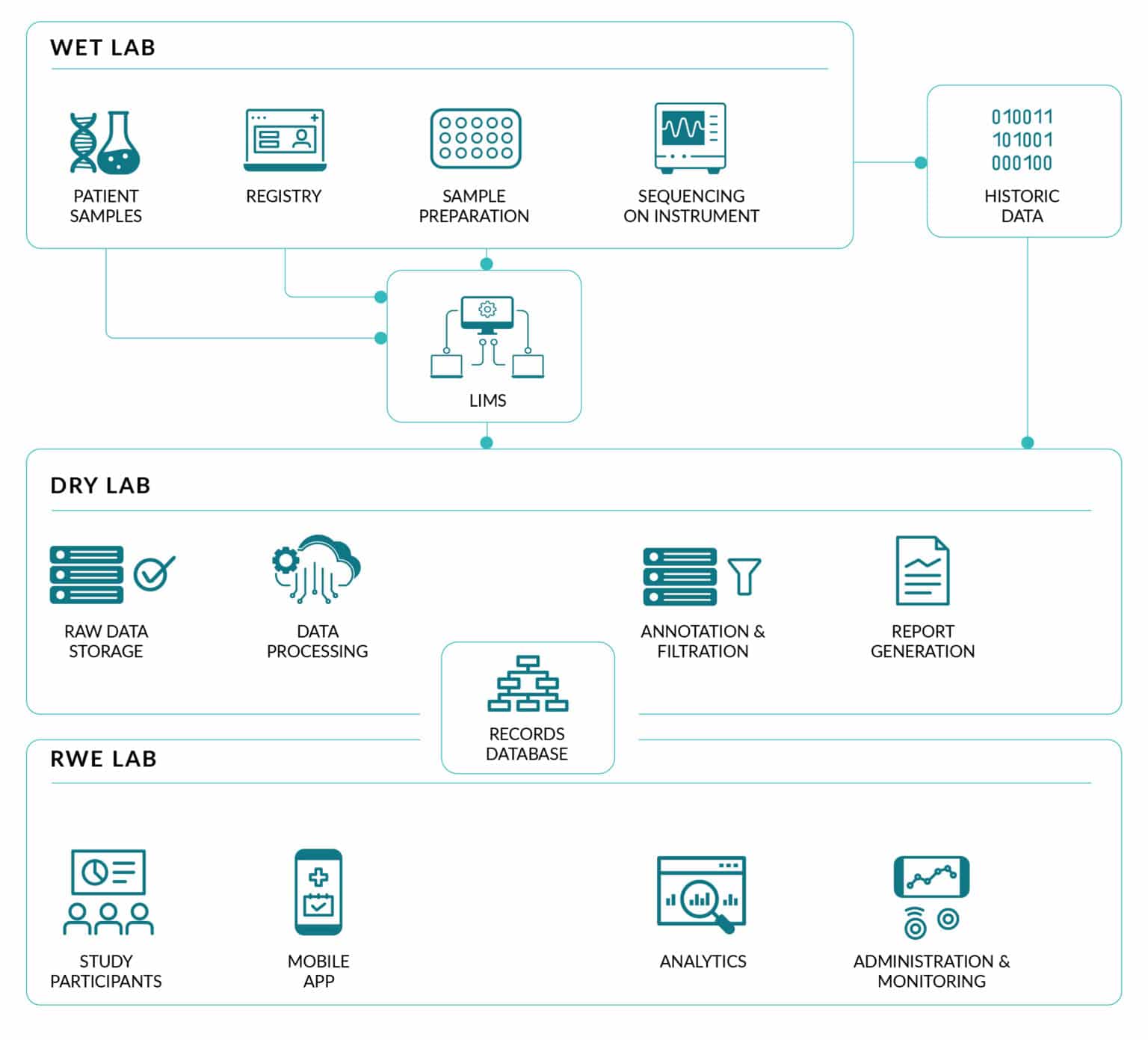 Genomcore platform can centralize many digital processes usually distributed across different systems and vendors, including data collection, storage, processing, and analysis, becoming the hub for dry lab operations inside your organization.
Genomcore Unified Multimodal Datastore is able to store and integrate all structured information from your LIMS, CRM, ERP or vendor-specific systems into a single source of truth, streamlining data processing, analysis and reporting in a collaborative manner.
INCREASE EFFICIENCY WITH PROCESS AUTOMATIZATION
With Genomcore's Platform Engine, it's possible to easily execute both small routine tasks or large workloads in distributed data centers, whether they're on-premises or in the cloud. This allows for flexible resource allocation and scaling up or down based on needs.
By automating laboratory processes through the Platform Engine, the risk of human error is significantly reduced, and turnaround time is improved. This increased efficiency allows for faster, more accurate, consistent, and reliable results, ultimately benefiting your team and patients alike.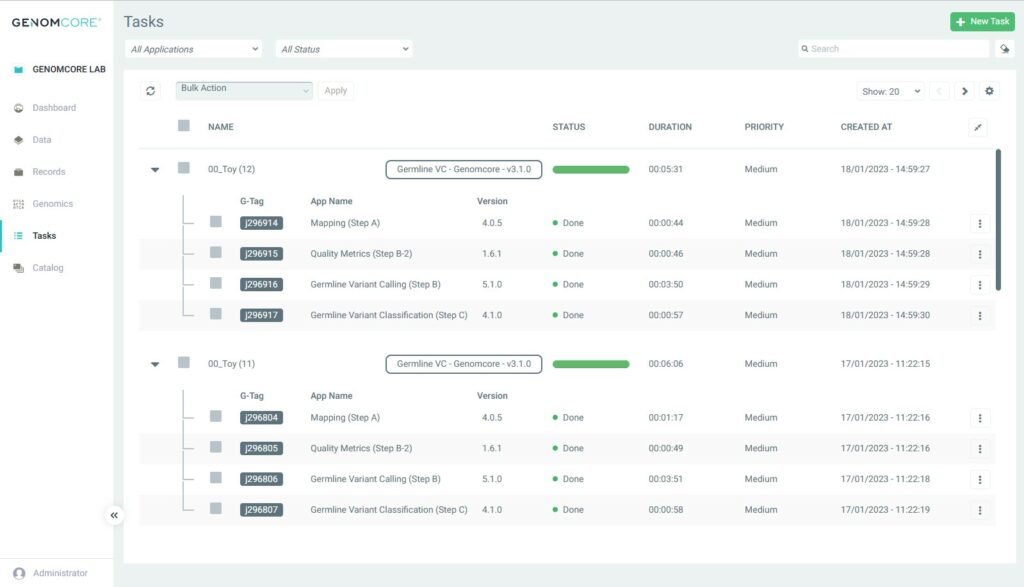 IMPROVE YOUR OUTCOMES WITH MULTIMODAL REPORTING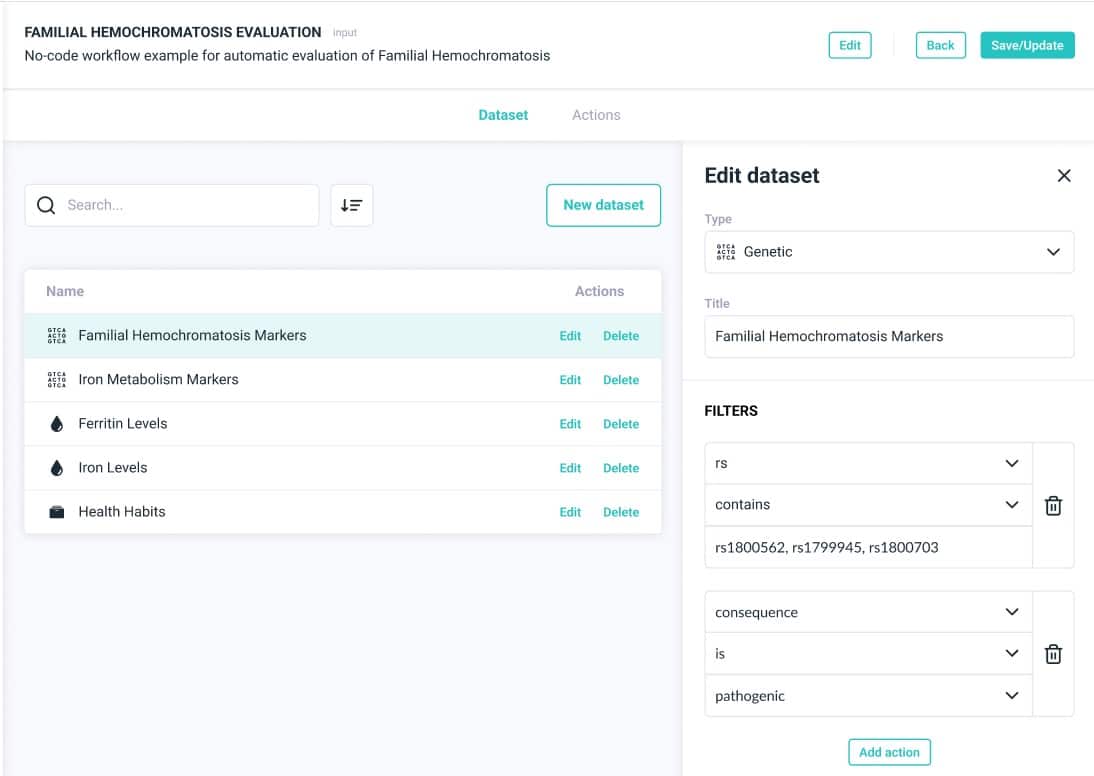 Precision medicine has revolutionized clinical diagnosis by requiring a multifaceted approach to interpreting complex diseases. This involves combining data from multiple specialties to inform decision-makers with insights that are both actionable and effective.
With Genomcore, it's easy to annotate DNA expression values and integrate them with anatomical pathology images and in-blood biomarkers to generate a comprehensive oncology report for patients. Or adjust cardiac risk classification of patients accounting for in-blood cholesterol levels and activity tracking from their smartwatch. Possibilities are endless, but all lead to an empowerment of healthcare providers to deliver more personalized care and better treatment outcomes.
EVOLVE YOUR CUSTOMER EXPERIENCE
Genomcore's Interface Builder and flexible reporting capabilities offer diagnostic providers the opportunity to revolutionize the way they deliver information to their users. We believe that clinical rigor can be compatible with modern user experiences by designing reports with embedded infographics and contextual data that help users quickly and intuitively interpret complex results, making informed decisions easier.
Our advanced reporting and visualization tools are designed to add value to both patients and healthcare providers and patients, highlight key insights and enriching the diagnostic context.
STREAMLINE THE DEVELOPMENT OF MEDICAL DEVICES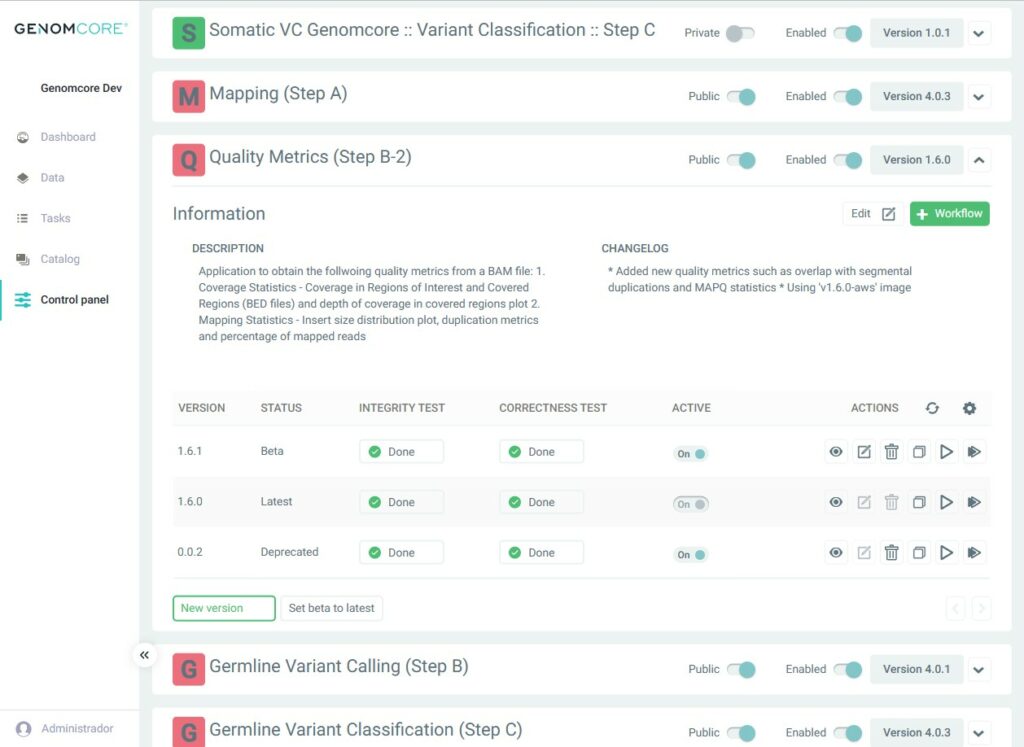 Genomcore
Platform Engine
is a comprehensive solution for building compliant Software as Medical Devices (SaMD). With Genomcore, developers can streamline the software life-cycle process, from coding to QA testing. Genomcore platform is built to meet the highest standards of data security and privacy, as well as regulatory requirements, such as ISO 13485 and IEC 62304. Genomcore provides a robust set of tools to ensure that SaMDs are developed according to best practices throughout the development cycle. This includes traceability, validation and verification testing. With Genomcore, developers can save time and resources, as well as reduce the risk of non-compliance, ensuring that SaMDs are safe, effective, and ready for market.
DISCOVER SOME RELATED USE CASES